All the products found on this page are the same products that we use and trust. We have tested them and are truly confident that you will be as happy as our fish are with any of these products.
We ship worldwide, Simply choose your goods, select your country and local details and your cheap shipping rates will pop up.
All delivery prices are based on flat rates allowing you take advantage of combined shipping. If you are an international customer you have the option of a cheaper rate that takes longer and does not have any tracking details. If you are in a hurry we suggest you choose the international couriered option which arrives quickly and gives you a tracking number.
New Zealand customers goods are shipped overnight with tracking details.
"This is currently the most cost-effective and accessible source of Poret for Australian aquarists (it is where I bought mine). Freight is cheap and Greg is a delight to deal with." Another satisfied customer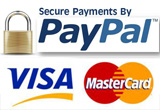 All prices and availability are subject to change at any time. Any faulty goods under warranty will be replaced with applicable replacements.